The Pulseworks' VR Transporter is delivering new levels of 'wow' to many museums and destinations across North America, including the Smithsonian National Air and Space Museum, the Museum of the US Air Force, and Denver Museum of Nature and Science to name a few. Visitors at these and a growing list of locations can enjoy cutting-edge motion-based virtual reality technology and connect with mission-related content in a whole new way!
Virtual Reality is the amazing new technology that enables people to have an immersive presence in a digital world. It uses high-tech head-mounted displays to connect users directly with content inside a three-dimensional space. Wearers of these displays can turn their heads and look in any direction they choose. Rather than simply watching a movie, they can change their perspective, explore and even sometimes interact with depicted objects. The visuals are so convincing, they can cause people to perceive they are present in the world being displayed.
The VR Transporter takes VR to a whole new level! While VR technology mimics the immersive visuals of the real world for the eyes, Pulseworks motion and effects technology reconfirms what wearers are seeing by providing input to their other senses! Dynamic motion provides important cues to the brain that they are really traveling, and stunning surround-sound audio and gripping 4D-effects heighten feelings of realism. They are completely immersed and feel as though they have been "transported" to a new reality or world! The VR Transporter is a truly engaging sensory experience!
The VR Transporter features many eye-popping, first person adventures, such as SpaceWalk: Danger in Orbit that allows patrons to assume the role of an astronaut testing a new manned-maneuvering unit and explore the exterior of the International Space Station high above the Earth.The Pulseworks VR Transporter puts guests right inside the astronaut's helmet!
The appeal of the VR Transporter experience at Pulseworks' partner locations can not be understated! Long lines and overwhelming customer survey expressions have proven this platform as a strong educational tool and significant revenue generator.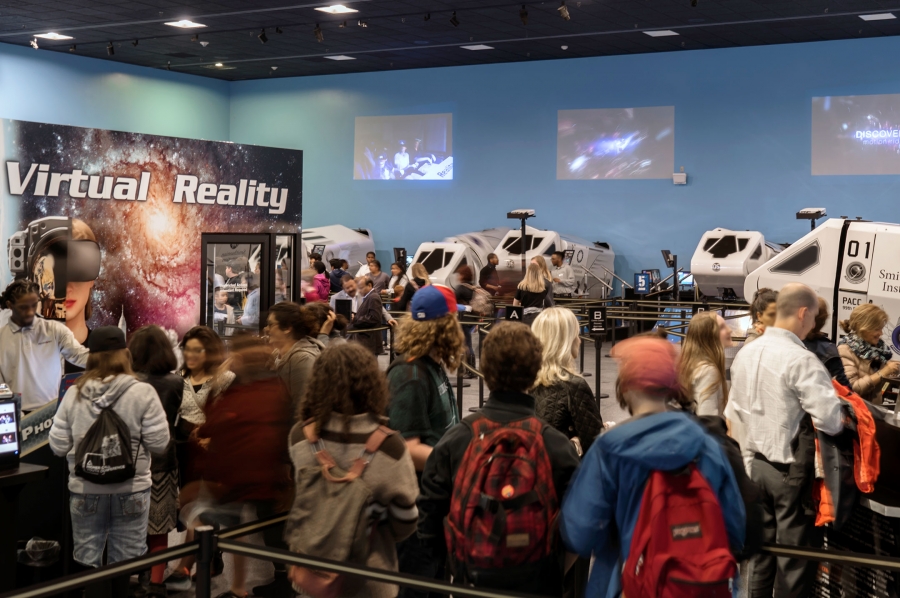 Pulseworks is developing a line of exciting VR adventures to accompany this new technology. Content in development includes a dazzling undersea dive in prehistoric seas and an out-of-this-world roller coaster ride through visually stunning terrains…and more to follow!
Pulseworks is proud to make this leading-edge technology available to its partners in a no-risk model and help them realize both mission mandates and revenue goals. Contact Pulseworks at sales@pulseworks.com to learn more about the potential to deploy the VR Transporter at your destination.